SPRIING 2011 SAMPLE SALE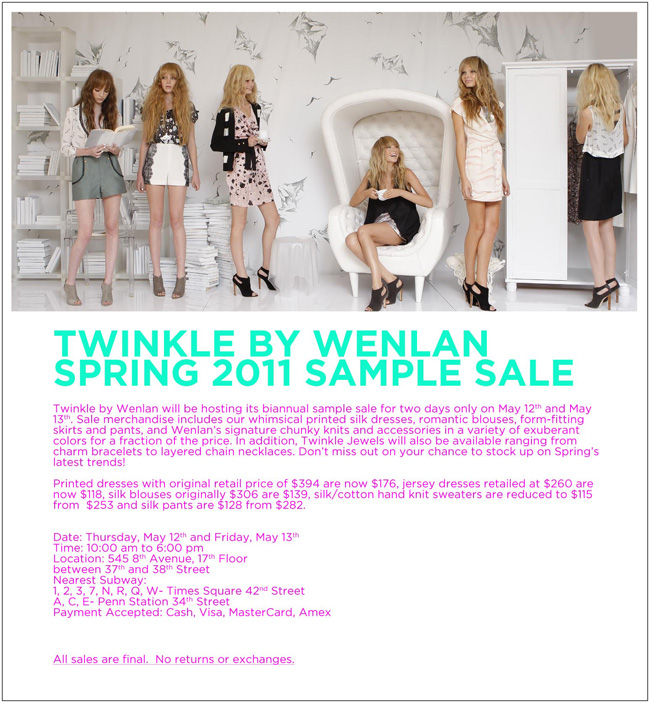 FASHION'S NIGHT OUT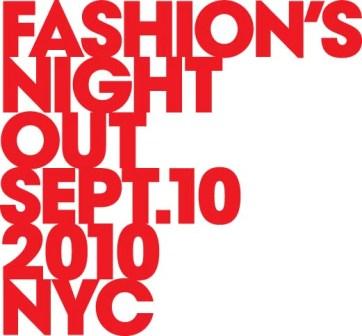 Coming Soon… Twinkle by Wenlan will be joining forces with our friends at Coclico to bring you a night of champagne, shopping and surprises! Stay tuned for more information!
Fashion's Night Out
September 10, 2010
6pm-11pm
Coclico
275 Mott Street
NY, NY 10012
212-965-5462
TWINKLE BY WENLAN TRUNK SHOW AT COCLICO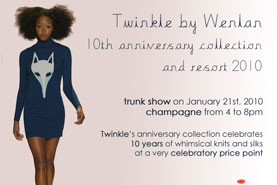 Join us to celebrate Twinkle by wenlan's 10th anniversary at Coclico.(275 Mott Street, NY, NY 10012 212-965-5462) featuring the timeless unicorn sweater and fox dress. Enjoy Champagne and music in the unique boutique shop. Wenlan's signature chunky knitwears and whimsical print dresses will keep you warm and comfy for a grand entrance to year 2010!
TWINKLE GOES POP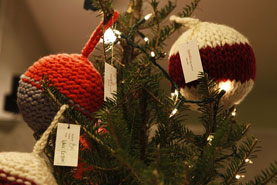 The Holidays are always spent celebrating with family and friends, and this past December was no exception when Twinkle by Wenlan celebrated the 10th Anniversary by hosting a Pop-Up Shop in the East Village.
For three days the trendy boutique, Cadillac's Castle, was transformed into Twinkle by Wenlan- filled with Ready to Wear, Accessories, and Twinkle Living. Iconic pieces and of course, the chunky knits were present at the boutique. A launch party was held the first evening for Wenlan's closest friends to celebrate the 10th Anniversary. While sipping rose, guests were able to shop the limited edition pieces that signified Twinkle's whimsical charm. Attendees included actresses Alexis Bledel, Katrina Bowden, Yin Chang, and Shailene Woodley. Supermodel Veronica Webb stopped by donning the Whimsy and Grace Dress and reality stars Erin Lucas, and Kelly Bensimon raved over the collection with the designer, Wenlan Chia.
POP UP SHOP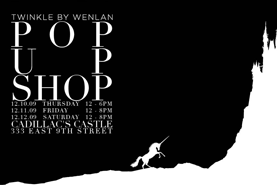 To celebrate a decade of continued evolution and showcase the latest collection at a pop-up shop at Cadillac's Castle (333 E. 9th St #A) on Dec. 10-12. The pop-up hours are 11AM-6PM on Dec. 10; 11AM-8PM on Dec. 11-12.
In addition to selling the fall and holiday 2009 collections, the anniversary pop-up shop will feature re-issued iconic, limited-edition pieces from the brand's history including Ready-to-Wear, Jewelry and Twinkle Living, just in time for holiday shopping. Anniversary items include Unicorn Crewneck Sweaters, Fox Turtleneck Sweater dresses, hand-knitted chunky hoodies, Fine Gold Deer Pendant, the infamous Milan mat, and knitted Christmas ornaments. Special exclusive merchandise will also be available such as a double sided purple wool jacket (regularly $336, anniversary price $198), Dreamer's journal print shell top (regularly $235, anniversary price $98), and a black wool shirt dress (regularly $321, anniversary price $168).
More Info:
NY Post | Black Book | Racked | The Quest for It | My Fashion Plate | The Fabulous Report
TWINKLE TRUNK SHOW AT CHARLIE AND SAM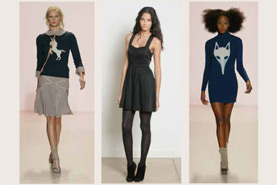 Please join us to celebrate Tuesday, December 15th at 7pm with recent new comer Williamsburg store Charlie and Sam! The sister duet is hosting Twinkle as their featured designer this month, so come -snow or shine- to eat, drink, and be merry. Merchandise will include warm chunky knit accessories and Twinkle Living throw pillows (perfect for gift giving), winter coats and sweaters (perfect for New York snow), some little black dresses (perfect for your holiday festivities), and the latest Resort delivery from Twinkle (perfect for your mid winter's get a way). Please be sure and rsvp to info@charlieandsambrooklyn.com. Hope to see you there!
For more information on Charlie and Sam, please visit their website at www.charlieandsambrooklyn.com
TWINKLE BY WENLAN TAKES ASIA BY STORM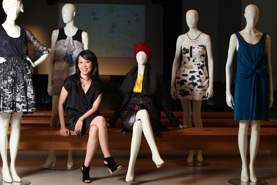 Twinkle by Wenlan is taking Asia by storm!  Recently, Wenlan held her first trunk show in Asia, which took place at Level 6ix in Taipei.  She also met with media in Tokyo and, in June, gave a speech about her career in Xuexue in Taipei.

Photo courtesy of Deng Momo
FIT FASHION SHOW & WENLAN'S CRITIQUE AWARD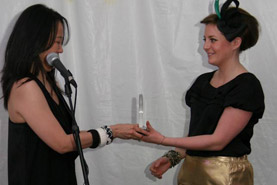 To add to the excitement of graduation, knitting guru and fashion designer Wenlan Chia acted as Knitwear Critic at FIT's Critic's Choice Award ceremony. Critic's Choice Award Winner for Knitwear, Jaci Carley, received her award on April 27th, 2009 at FIT to spotlight her creativity, professionalism and craftmanship. Ms. Chia judged the students alongside designers Tory Burch, Nicole Miller and Alexander Wang.
TWINKLE BY WENLAN IS ON FACEBOOK!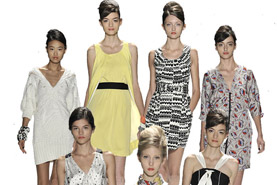 TWINKLE FALL 2009 FASHION SHOW AT CLASSIC CAR CLUB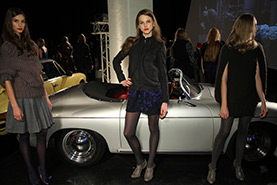 Twinkle by Wenlan took a step back in time to create a standout fashion-forward Fall 2009 Collection. Hosted at the Classic Car Club in SoHo, the Collection was presented amidst vintage cars and a movie projector showcasing Roman Holiday. Glass bottled Cola Cola and freshly popped popcorn contributed to the drive-in movie vibe, while St Supery' white wine, Preseco' sparkling wine and Marie Belle's fine chocolates emphasized the high fashion revelation.
Guests stood level with models donning Twinkle Fall 2009, strutting the new looks and playfully lingering on the cars. An upclose and personal inspection displyed the further meshing of opposites: masculine plaids with feminine florals; double-sided wool with flirty silk and bouncing georgette; crinkled chiffon with web-like knits. John Ruidant of Redken brought movement through flowing curls while Gregory Arlt of MAC added pizzaz with vivacious red lips on flawlessly fresh faces.
The crowd left buzzing - a combination of the wine and thrill of the new collection - having paid homage to the past and eager to take that next step into fashion future.
TWINKLE FALL 2009 FASHION SHOW AFTERPARTY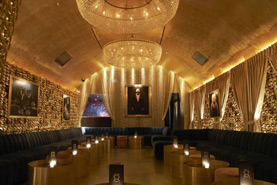 Months of hard work and anticipation intensifies the excitement of Fashion Week; followed by the sigh of relief once it's successfully over and a mental low when you realize the action has settled. But never fear – final bows are not truly final until the after party! This year, Twinkle by Wenlan took the Fall 2009 Collection celebration to GoldBar, a cozy lounge in Little Italy that's glamorously gold - a perfect place to revel in all things fabulous! While sipping an original Twinkle Crisp, toasts were made all around to a job well done and many more to come!
THE BARBIE SHOW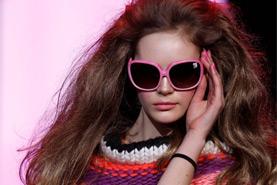 This year marks Barbie's 50th birthday and Mattel celebrated by sponsoring Fashion Week and by putting on a show with 50 Barbie outfits made by top designers.  Barbie wore a Twinkle chunky Shopping Tunic down the runway among other gorgeous looks by designers such as Calvin Klein, Marchesa, Catherine Malandrino, Anna Sui, and Vera Wang to name a few. Happy birthday, Barbie!  You look mighty good for your age.
TWINKLE FALL 2009 FASHION SHOW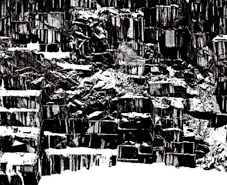 Twinkle by Wenlan Fall 2009 Fashion Show will be presented on Sunday 2/15/2009 at 5pm.
TWINKLE FALL 2009 FASHION SHOW AFTERPARTY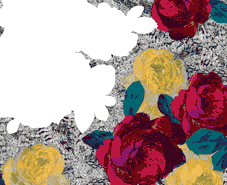 Twinkle by Wenlan Fall 2009 Fashion Show after party will be held at Goldbar on Thursday 2/19/2009, 9pm to 11pm. Invitations upon request. Due to limited space, not all requests will be granted.
SHOP FOR A GOOD CAUSE!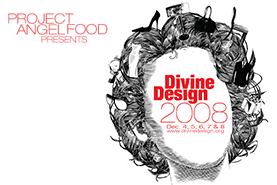 Big Discounts on Top designers men's, women's, and children's fashions, home furnishing, and decor as well as toys, cosmetics, accessories, and spa products all at 50% - 90% off retail. 100% of proceeds go to Project Angel Food! Every five dollars you spend feeds one person per day. Shop Friday December 5- Monday December 8. 9900 Wilshire Blvd (Old Rob May building) in Beverly Hills. Free Parking!
NEW YORK SHOP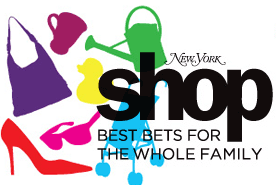 New York Magazine hosts New York Shop: Best Bets for the Whole Family – the ultimate all-ages shopping event just in time for the holiday season! 40+ exhibitors will feature divine deals on clothing, accessories, beauty and health products, books, toys, home décor and more – up to 60% off – creating a dynamic, one-stop destination to conveniently fulfill holiday shopping needs for both family and friends. Plus, little ones can enjoy amazing activities including cupcake decorating, science experiments, sing-alongs and more.
BEHIND THE SCENES STORY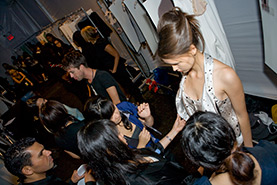 Watch film maker Jeff Gatti's view of Twinkle by Wenlan's spring 09 show behind the scenes. Let the scramble and chaos ensue as you glimpse the excitement, creativity, beauty, and humor backstage.
NEW YORK SHOP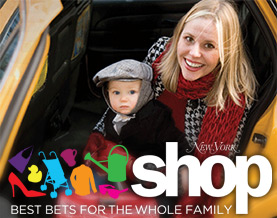 The season of gifting is quickly approaching, but don't worry. New York Magazine is hosting New York Shop on December 6th. The event will offer over 40 exhibitors and great deals on clothing, accessories, books, toys, and housewares. And the fun's not limited to adults either; there will be plenty of activities for kids like book readings, cupcake decorating, and arts-and-crafts. Partial proceeds from this event will be dedicated to Room to Grow which helps infants born into poverty through their first essential years of life.

Keep an eye on our website because we will soon be able to offer our Twinkle customers a special discount on tickets!
Saturday December 6
Altman Building
135 W 18th Street
11AM-7 PM
TWINKLE BY WENLAN SPRING 2009 FASHION SHOW AT BRYANT PARK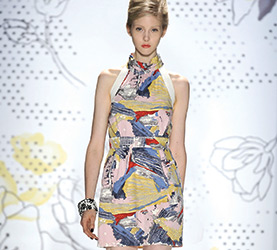 Twinkle's Spring 2009 collection, inspired by the iconic actress Jean Seberg, showed at Mercedes-Benz Fashion Week on Monday, September 8th. The influence of Seberg's grace and beauty was revealed through a blend of colors, textures, timeless prints, and trim silhouettes. Her idealistic school girl charm was captured with classic, tailored pieces accented by ultra-feminine details that brought to light Seberg's bohemian artistry. Film noir set the mood this season and the Twinkle girl was cast.
TWINKLE BY WENLAN AFTERPARTY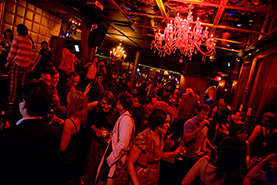 Our after-party took place on the last day of Fashion Week and everyone was ready to kick back and relax after their whirlwind week. Flora de Cara Rum, Izze, St. Supery white wine, and Peroni beer were on hand to help up unwind and ring in the weekend. Of course Insomnia cookies are always the big hit of the party and did not last long as guests, sick of watching their waistlines, indulged in these yummy cookies. We were glad that everyone had a great time and want to thank Room Service for always being such a great host!
LUCKY SHOPS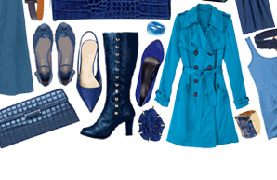 If shopping were a sport, then Lucky Shops would undoubtedly be the shopper's "Olympics". All of New York's finest designers come together to give fashion aficionados some amazing deals. With prizes, giveaways, and an abundance of special offers this is definitely the shopping event of the year. Come visit us from November 6-8 as we join Lucky magazine for Lucky Shops.
TWINKLE THROUGH THE NIGHT
EXCLUSIVE KNITTING WORKSHOP EVENT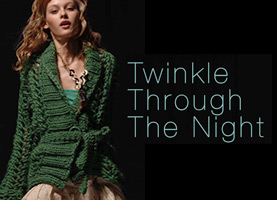 Knitting has never been so fun, so easy, or so fashionable. Join us here at Twinkle, as Wenlan Chia holds her first highly anticipated knitting event. You've seen her amazing creations on the runway, studied them in her books, and wrapped yourself in her decadent knits. Now you can come and learn from the Queen of Knitwear herself.
TEEN VOGUE UNIVERSITY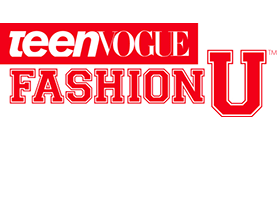 Wenlan is heading back to school!  She is excited be part of Teen Vogue's Fashion University which gives young adults the opportunity to learn from their favorite designers and editors.  Wenlan is excited to share how she started her own brand, Twinkle, and has expanded into her own living, yarn, and jewelry lines.
WENLAN INTRODUCES TOWN AND COUNTRY KNITS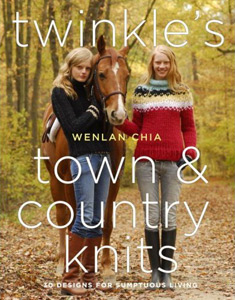 As temperatures go down, those of us that knit are instinctively reaching for our knitting needles.  Just as we start to search for the perfect fall project, Wenlan is celebrating the release of her third book on September ??.  Wenlan first gave us a taste of her trademark style in Twinkle's Big City Knits and Twinkle's Weekend Knits. She will wow us again with her eye-catching sweaters and sophisticated designs.  Inspired by a lifestyle, in which the urban and the pastoral gracefully meet, the Twinkle aesthetic strikes an elegant balance. Chia casually modernizes a town-and-country chic from years past.  This book has sophisticated patterns for every knitting enthusiast and for those of us that simply love fashion.
SPRING 2009 FASHION WEEK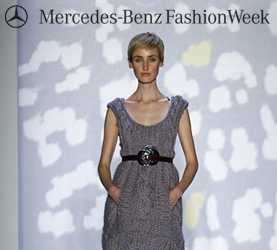 Twinkle by Wenlan will present our Spring 2009 collection at Mercedes Benz New York Fashion Week on Monday, September 8 at 9:00am at The Salon, Bryant Park, New York City. You can find more information on Fashion Week below.
LUCKY BREAK GIVEAWAYS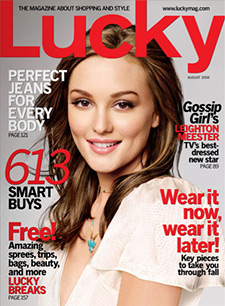 Pick up your September issue of Lucky Magazine to see Twinkle by Wenlan's latest promotion. Receive 25% off of any purchase from the entire Twinkle Living website from August 1 through September 30, 2008. Happy shopping!
TWINKLE BY WENLAN EXPANDS IN ASIA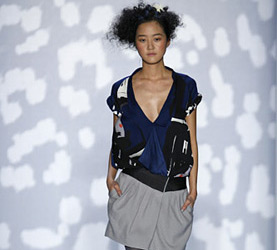 Twinkle by Wenlan can now be found at fine retailers throughout Asia including Levre, Macho, and Adelaide in Japan; Level 6ix in Taiwan; Seibu and Harvey Nichols in Hong Kong; Eclecticism in Singapore; and Olive Store in Indonesia starting August 2008. The fall collection will showcase in these countries including our feminine printed dresses, hand-knit chunky sweaters and dazzling array of fall accessories.
TWINKLE BY WENLAN FIGHTS FOR A CURE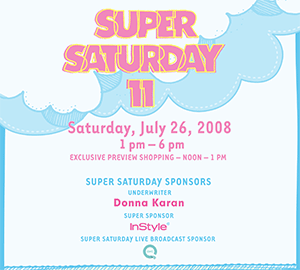 Twinkle by Wenlan joined the battle to fight Ovarian Cancer by participating in the annual Super Saturday event, held on July 26, 2008. Proceeds were donated to the Ovarian Cancer Research Fund (OCRF) at Nova's Ark Project, Water Mill, NY. Through invaluable support and generosity, OCRF is one step closer to finding a cure for Ovarian Cancer.
SUMMER KICK-OFF BECOMES A HUGE SUCCESS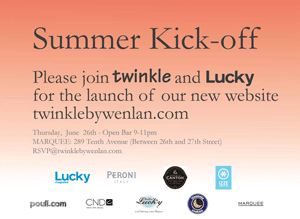 Twinkle by Wenlan kicked off summer with the launching of their new website. The launch event, in collaboration with Lucky Magazine, was held on June 26th, 2008 at the Marquee. We would like to thank all the guests that attended our event. We greatly appreciate your support.
TWINKLE HOLIDAY 2008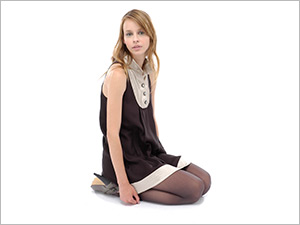 Twinkle by Wenlan announces the release of its Holiday 2008 Collection. Designer Wenlan Chia offers a look that is polished, artistic, and sensual. Inspired by menswear, the collection is crisply clean with a sporty twist. The collection celebrates the classic 'black and white' look while splashes of mustard yellow, dove grey and crimson red also add modern touches. Night tone colors such as midnight blue, mauve, and teal induce a nostalgic feel. Twinkle Jewels' vintage-inspired Holiday Collection includes pieces that are cheery and playful.
TWINKLE LIVING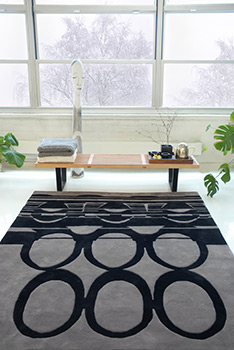 Twinkle Living announces the launch of our new collection of rugs and mats. It includes seven pieces inspired by designer Wenlan Chia's ready-to-wear collection and her love for art and travel. The new collection of rugs includes a variety of different styles. The whimsical designs are sure to appeal to people of ages.